Sponsored Links
Strong indications have emerged that troops and security personnel involved in the ongoing counter-terrorism campaign against Boko Haram are unhappy with the release of five top Boko Haram commanders.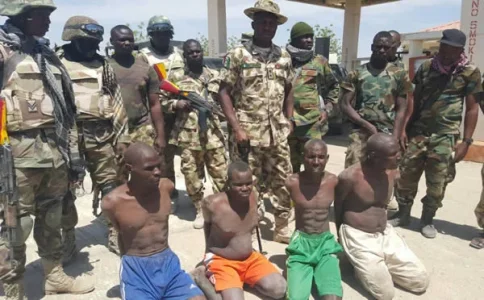 The commanders were said to have been released in exchange for the 21 of the Chibok schoolgirls who regained their freedom on Thursday.
Some security personnel, who confided in Punch correspondents, said that while the return of the girls is worth celebrating, those in the armed services are not pleased with what Nigeria gave in exchange for the girls.
It was further gathered that some of the troops were not happy that Boko Haram commanders, who had killed civilians and security personnel, were traded for the girls.
Investigations also revealed that senior military figures in strategic places only knew of the release of the girls when the news broke on Thursday.
However, a top military figure said that the information on the negotiation for the release of the Chibok girls was not meant to be known to the public.
The source said, "You must understand that it is not all information that we release to people. The lives of those girls were at stake. Negotiations securely rest on the shoulders of political leaders, but that does not mean that military operations will not continue. We must protect the civilian populace from attacks and build confidence in the citizenry.
"It was a political decision; we are under the political leadership. We derive our mandate from the constitution as provided for by democratic governance.
"The military action must continue and it is going on as planned. We are working round the clock, in concert with other security agencies, to ensure that the remaining girls are also rescued."
Follow Us on Twitter!
Like Us on Facebook!
Do You Need a Sugar Mummy, Sugar Daddy, Girlfriend, Boyfriend Wife or Husband? If Yes, Then Click Here For Details